How to Remove Fax.backend Malware? (Mac Guide)
Fax.backend Malware is a potentially unwanted program (PUP) and you should keep watch over it right after you receive messages from it. It will introduce itself as a shopping help. And the messages from it will show in a special forms and they all belong to the ads families. They cover coupons, products menus, discounts or the new fashion. Then, it has reasons to gain your attentions and we feel it necessary to remind users of abstaining the attracts from it.
These ads from Fax.backend Malware owns their names for their frauds and harming effects. They look like an assistant each time you visit the Internet, but they actually lead you to the strange websites which bring in freeware, shareware, browser hijacker, or virus to the PC. So you should pay for this conducts with the damage of your PC, but you have no methods to prevent them from getting in.
Fax.backend Malware gets inside the PC with several ways, and they will take use of your inappropriate behaviors. For example, it will attract you with spam emails. And these emails always contain the attachment which will link you to install this adware on your PC. Just in a while, all the process finished and you don't even have time to deny it.
That is why expects always advise you to take care of your behaviors in the Internet and they may harm you directly. But don't be worried. We apply you some instructions here to help you get rid of Fax.backend Malware, and please refer to them.
MyFax
Сервис на английском языке, позволяет бесплатно отправлять факс в 41 страну, в числе которых есть и Россия. В день на отправку дается 2 документа по 10 страниц каждый. На первой странице размещается реклама сервиса. Регистрация не требуется.
Так же, MyFax предлагает тридцатидневный тестовый период, который включает в себя свой факс-номер и неограниченное количество документов на отправку и получение.
Поддерживаются файлы следующего формата: .doc, .docx, .pdf, .xls, .xlsx, .ppt, .pptx, .tif, .gif, .jpeg, .jpg и т.д.
Чтобы отправить факс необходимо:
Заполнить блок отправителя «To» и получателя «FROM»

Поле «Name» (Имя) и «Company» (Компания) заполнять необязательно
В поле «Country» (Страна) выбрать страну в которую нужно сделать отправку
В поле «Fax Number» (Номер факса) вбить номер факса получателя
В поле «Email» ввести ваш емейл адрес

Прикрепить документ в блоке «Fax Message» или ввести сообщение вручную «Enter text message»
Нажать на кнопку «SEND FAX»
На емейл, который вы указали в блоке «From» должно будет прийти письмо, получив его, вам необходимо будет перейти по ссылке, чтобы подтвердить отправку.
Если факс доставлен, то придет уведомление о доставке, если же нет, то об ошибке.
How Does It Destroy Your Computer?
Potentially harmful programs are mainly distributed through software bundling technology. They may be stated as being provided free of charge to ensure equipment safety and optimization.
When you download free software from untrusted third-party sites and install them using the «quick» or «recommended» pattern set, they are at risk of being infected with these harmful threats.
In addition, if you tend to click on malicious advertisements and links that you often see when surfing the Internet, you may be redirected to a website full of malware and eventually infect your system with adware.
If «fax.backend» damages your computer and turns out to be adware or PUP (Potentially Unwanted Program), it may significantly modify your browser to show you the following types of advertisements:
Highlighted text promotion.
Banner ads.
pop up.
Browser redirect ads.
Ad-supported results that appear when searching for content.
Push notifications.
Then, let's see how to get rid of the fax.backend will damage your computer issue.
Мой принтер хочет отправить факс вместо печати: вот исправление
Работа с многофункциональными принтерами не должна быть такой большой суетой, поскольку режимы печати, сканирования или отправки по факсу можно легко изменить как с помощью физических кнопок, так и с помощью программного интерфейса .
Тем не менее, некоторые пользователи испытывали трудности со своими принтерами, так как они, похоже, застряли в режиме факса. А именно, кажется, что принтер хочет отправлять факсы вместо печати, и он застревает в этом режиме.
Проверьте шаги ниже, чтобы решить эту проблему соответственно.
Fax.backend
Fax.backend is an ad-generating Mac application that is created to promote specific websites from inside your browser's window, irrespective of whether you are cool with that or not. That's why Fax.backend will keep opening new tabs or redirect your searches to the pages that it is designed to advertise for as long as you keep it on your machine.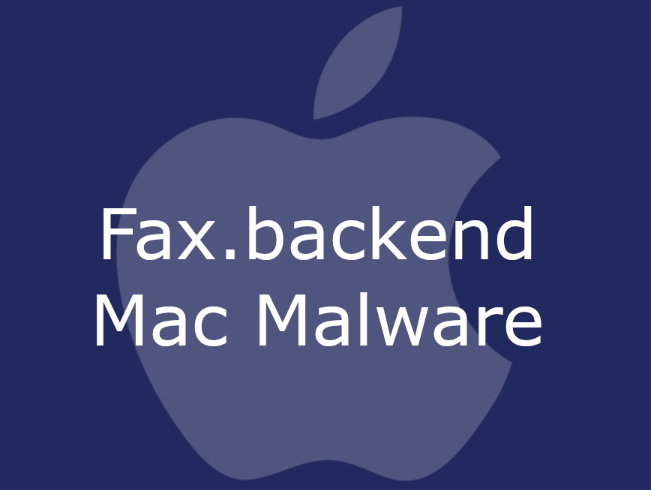 The Fax.backend on Mac
The main problem with this program, aside from how annoying it may be, is that some of the web addresses and the web offer that it is meant to promote may not be very reliable and safe. Fax.backend can fill the screen with various text links, click prompts, pop-up messages, banners and random notifications. Although the purpose of this bogus software isn't linked to destroying your device or exposing it to external danger, the latter may potentially end up being an indirect consequence of the promotional activities performed inside your web browser.
If this software integrates itself with Safari, Chrome, Firefox, or another Mac browser, it may remove the default search engine and place a new one, change the preferred homepage with a different address, and even add several redirect buttons in the toolbar without asking for the users' informed permission. What's worse, though, is that after the "improvements" in the browser have been made, you can't find an option to undo or remove them. This means that, for as long as Fax.backend operates inside your browser, you won't be able to bring back your preferred search engine or homepage or uninstall the undesired new buttons from your toolbar.
Remove Files and Folders Related to fax.backend will damage your computer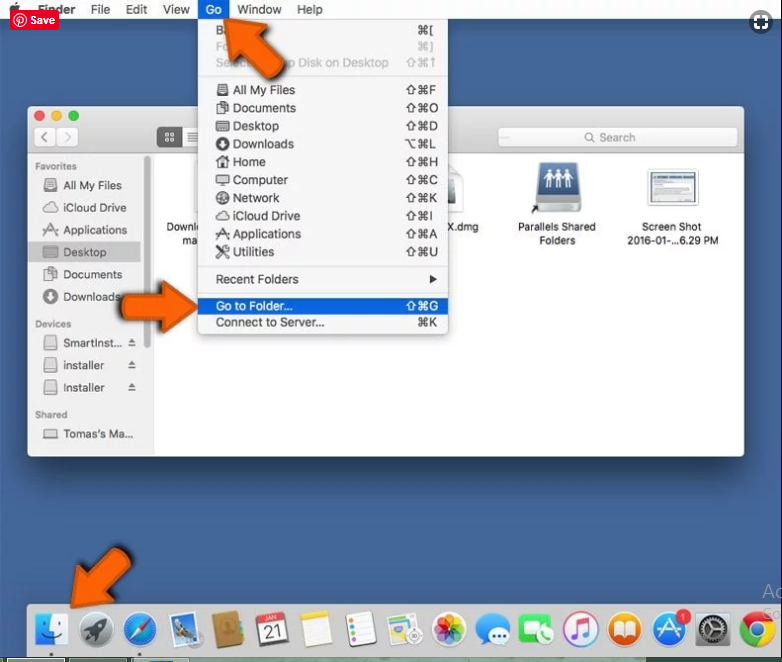 Open the "Menu" bar and click the "Finder" icon. Select "Go" and click on "Go to Folder…"
Step 1: Search the suspicious and doubtful malware generated files in /Library/LaunchAgents folder
Type /Library/LaunchAgents in the "Go to Folder" option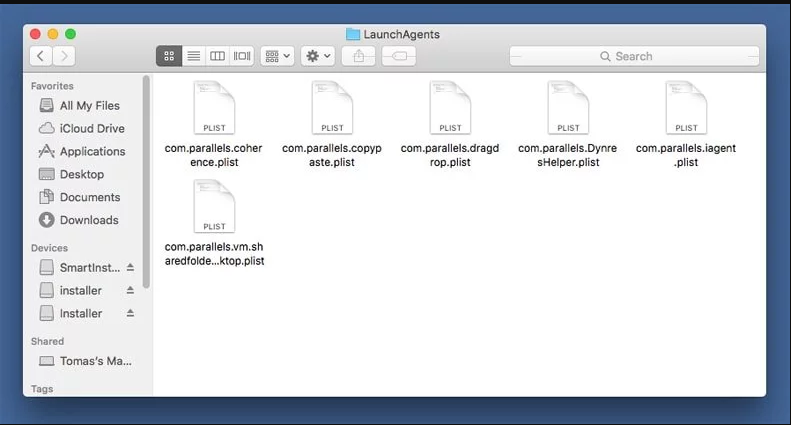 In the "Launch Agent" folder, search for all the files that you have recently downloaded and move them to "Trash". Few of the examples of files created by browser-hijacker or adware are as follow, "myppes.download.plist", "mykotlerino.Itvbit.plist", installmac.AppRemoval.plist", and "kuklorest.update.plist" and so on.
Step 2: Detect and remove the files generated by the adware in "/Library/Application" Support folder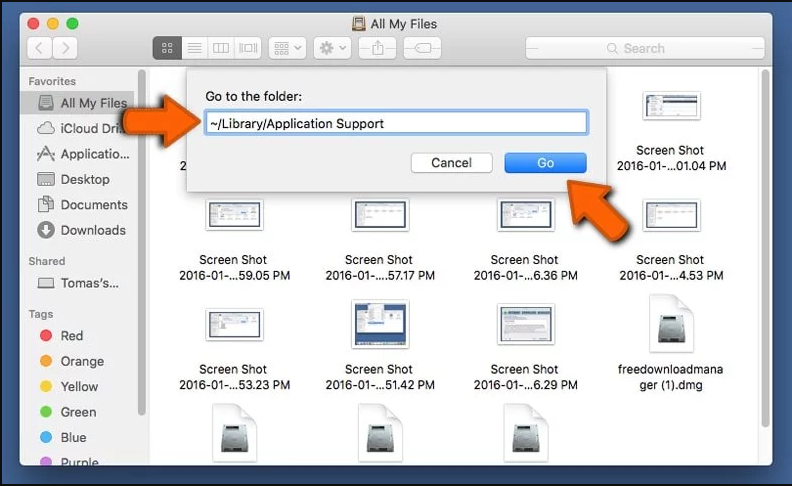 In the "Go to Folder..bar", type "/Library/Application Support"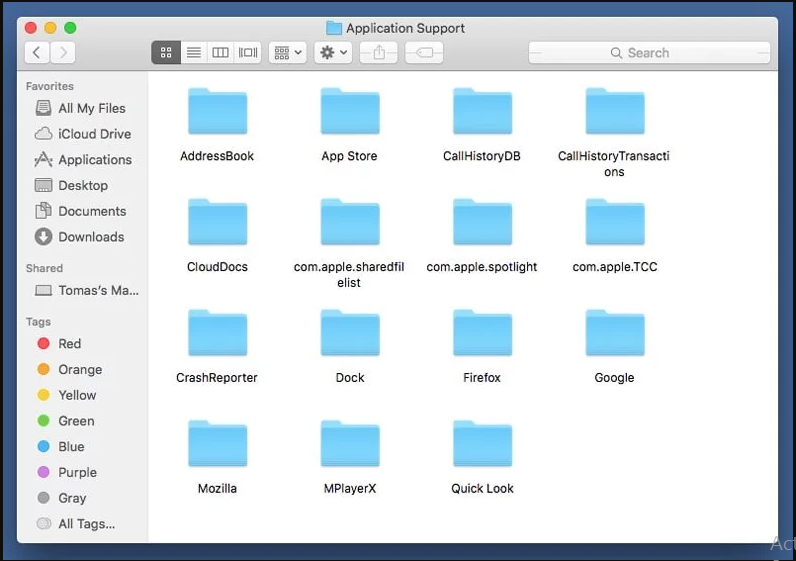 Search for any suspicious newly added folders in "Application Support" folder. If you detect any one of these like "NicePlayer" or "MPlayerX" then send them to "Trash" folder.
Step 3: Look for the files generated by malware in /Library/LaunchAgent Folder: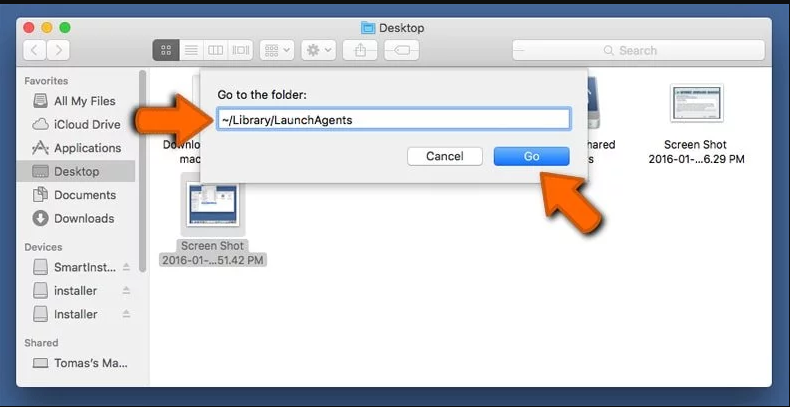 Go to Folder bar and type /Library/LaunchAgents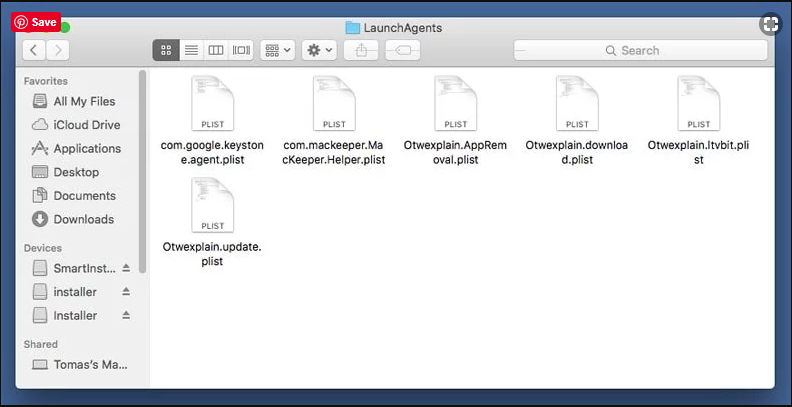 You are in the "LaunchAgents" folder. Here, you have to search for all the newly added files and move them to "Trash" if you find them suspicious. Some of the examples of suspicious files generated by malware are "myppes.download.plist", "installmac.AppRemoved.plist", "kuklorest.update.plist", "mykotlerino.ltvbit.plist" and so on.
Step4: Go to /Library/LaunchDaemons Folder and search for the files created by malware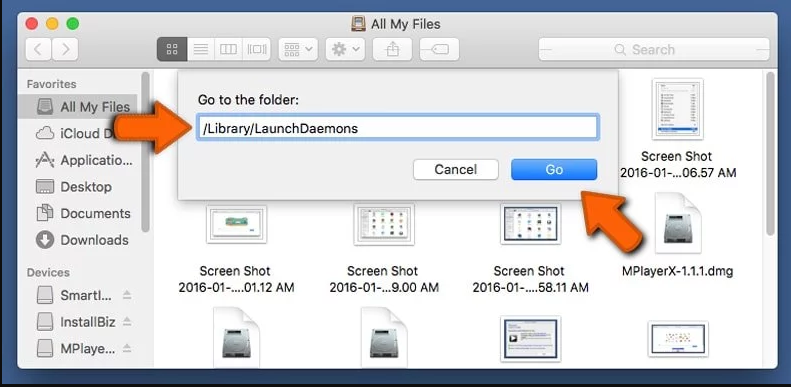 Type /Library/LaunchDaemons in the "Go To Folder" option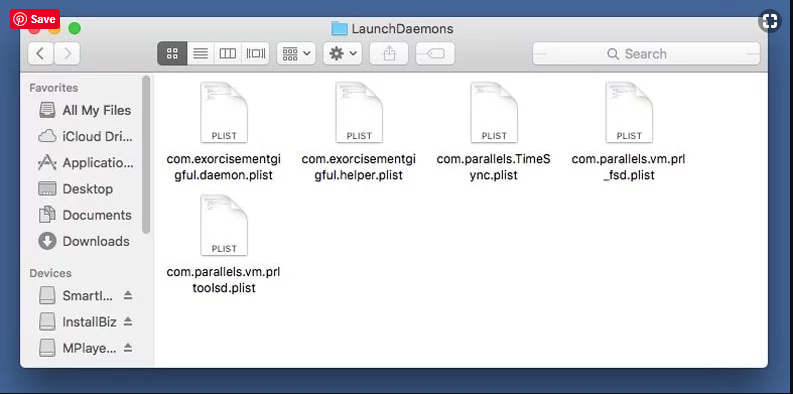 In the newly opened "LaunchDaemons" folder, search for any recently added suspicious files and move them to "Trash". Examples of some of the suspicious files are "com.kuklorest.net-preferences.plist", "com.avickUpd.plist", "com.myppes.net-preference.plist", "com.aoudad.net-preferences.plist" and so on.
«fax.backend» will damage your computer FAQ
What is «fax.backend» will damage your computer on your Mac?
The «fax.backend» will damage your computer threat is probably a potentially unwanted app. There is also a chance it could be related to Mac malware. If so, such apps tend to slow your Mac down siginficantly and display advertisements. They could also use cookies and other trackers to obtain browsing information from the installed web browsers on your Mac.
The creators of such unwanted apps work with pay-per-click schemes to get your Mac to visit risky or different types of websites that may generate them funds. This is why they do not even care what types of websites show up on the ads. This makes their unwanted software indirectly risky for your MacOS.
Can my Mac get a virus?
Yes. As much as any other device, Apple computers do get viruses. Apple devices may not be a frequent target by malware authors, but rest assured that the following Apple devices can become infected with a virus:
iMac
Mac Mini
Macbook Air
Macbook Pro
iPhone
iPad
What are the symptoms of «fax.backend» will damage your computer on your Mac?
There are several symptoms to look for when this particular threat and also most Mac threats in general are active:
Symptom #1: Your Mac may become slow and has poor performance in general.
Symtpom #2: You have toolbars, add-ons or extensions on your web browsers that you don't remember adding.
Symptom #3: You see all types of ads, like ad-supported search results, pop-ups and redirects to randomly appear.
Symptom #4: You see installed apps on your Mac running automatically and you do not remember installing them.
Symptom #5: You see suspicious processes running in your Mac's Activity Monitor.
If you see one or more of those symptoms, then security experts reccomend that you check your Mac for viruses.
What types of Mac threats are there?
According to most malware researchers and cyber-security experts, the threats that can currently infect your Mac can be the following types:
Rogue Antivirus programs.
Adware and hijackers.
Trojan horses and other spyware.
Ransomware and screen-lockers.
Cryptocurrency miner malware.
What to do if I have a Mac virus, like «fax.backend» will damage your computer?
Do not panic! You can easily get rid of most Mac threats by firstly isolating them and then removing them. One reccomended way to do that is by using a reputable malware removal software that can take care of the removal automatically for you. There are many Mac anti-malware apps out there that you can choose from. SpyHunter for Mac is one of the reccomended Mac anti-malware apps, that can scan for free and detect any viruses, tracking cookies and unwanted adware apps plus take care of them quickly. This saves time for manual removal that you would otherwise have to do.
How to secure my passwords and other data from «fax.backend» will damage your computer?
With few simple actions. First and foremost, it is imperative that you follow these steps:
Step 1: Find a safe computer and connect it to another network, not the one that your Mac was infected in.
Step 2: Change all of your passwords, starting from your e-mail passwords.
Step 3: Enable two-factor authentication for protection of your important accounts.
Step 4: Call your bank to change your credit card details (secret code, etc.) if you have saved your credit card for online shopping or have done online activiites with your card.
Step 5: Make sure to call your ISP (Internet provider or carrier) and ask them to change your IP address.
Step 6: Change your Wi-Fi password.
Step 7: (Optional): Make sure to scan all of the devices connected to your network for viruses and repeat these steps for them if they are affected.
Step 8: Install anti-malware software with real-time protection on every device you have.
Step 9: Try not to download software from sites you know nothing about and stay away from low-reputation websites in general.
If you follow these reccomendations, your network and Apple devices will become significantly more safe against any threats or information invasive software and be virus free and protected in the future too.
More tips you can find on our website, where you can also ask any questions and comment about your Mac problems.